What to expect in this course
This course is a fly-on-the-wall opportunity to participate in the teaching sections of a research camp. It wasn't filmed "for an online course," but was valuable content to the students involved and therefore found its way here. Proceed at your own risk :)
Original Camp Description Below:
The debate camp at a computer like you've never had!
Seize the opportunity of remote work to master the one thing that's hard to pull off at in-person debate camps: research skills. It's a challenging topic since most volunteer coaches have never made a debate brief.
You'll learn from a research pro who transferred debate research/sourcebook skills into intelligence analysis and business. Isaiah will teach you to mindmap, use journals, track the schools of thought on a topic, choose one, and spend an entire year (and lifetime henceforth) at a deeper level in the research.
The format is: Isaiah lays research foundation like you've never seen before, then launches students on assignments. Independent students work on their own. Club students work with their club. We've made Discord (it's like Slack) channels available for anyone who wants.
Coach Laurie is leading her Mars Hill club through this and also putting on a killer debate camp the other half of this week—with guest speakers, experts, Dr. Farris, and so on. You can choose either or both!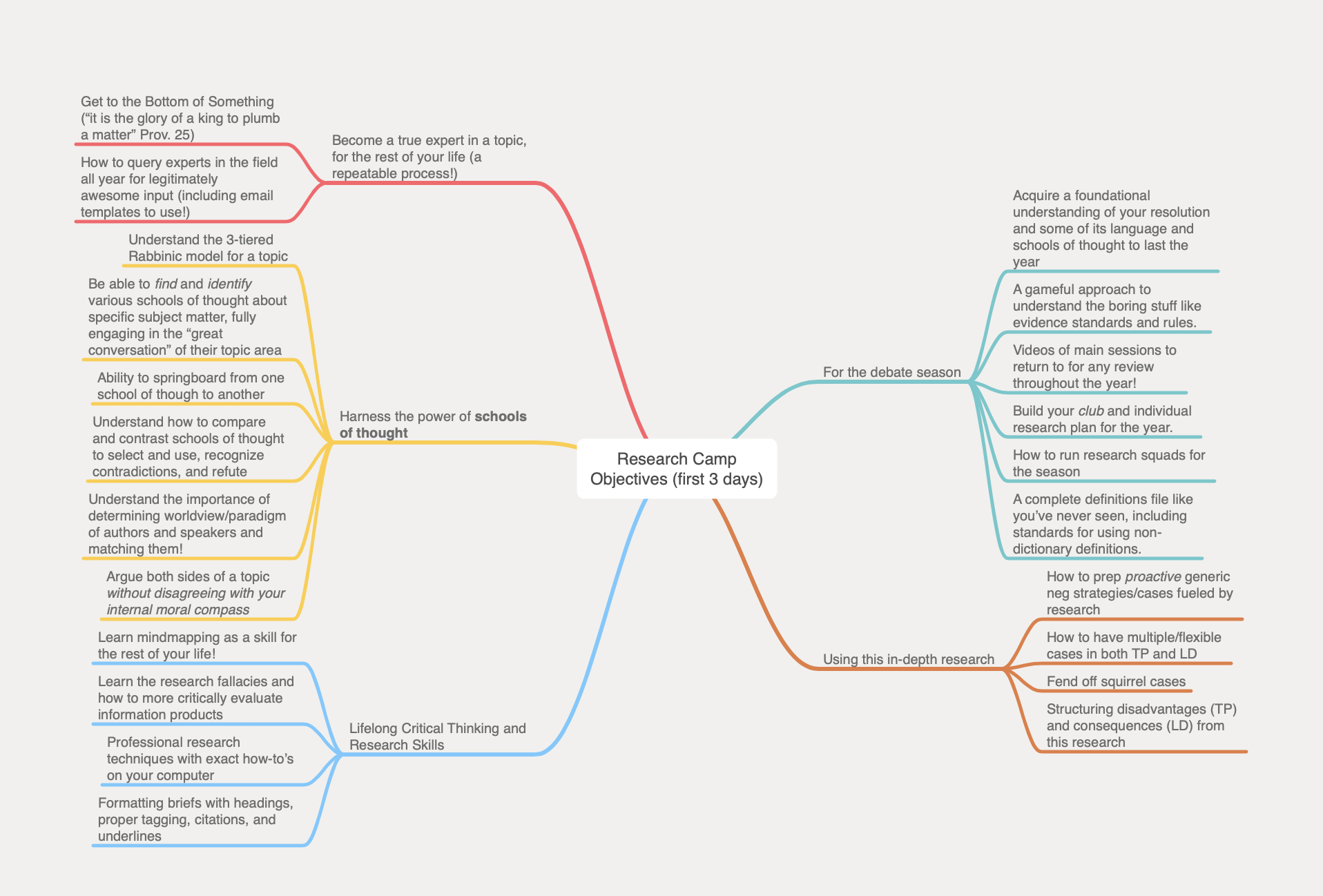 Some Helpful Resources from Times Past
These links will give you a sense of the level of depth to expect from Isaiah.
1. Example rounds, briefs, case studies
2. The huge list of skills you learn from debate (and mindmap)
3. Getting started with a new debate topic
4. 1980s debate theory is not "traditional"
5. Use goalsheets to improve like a professional
6. Several free resources Isaiah made for coaches


Goals for the primary lessons.
Research Foundations 1 with Isaiah McPeak
Research Foundations: Get to the Bottom of a New Topic
Research like an intel analyst for decisionmakers
Wide net, synthesis, conclusions, recommenations
Create your mindmap
Set up your browser for intense research
Create AFF, NEG, GEN files and headings
Start a better keyword glossary
Start a contextual definitions file
Find the schools of thought
Using conference talks to backtrack
Start listing major THEMES, PROBLEMS, SOLUTIONS
Identify the START of a school of thought
Track its progression, stave off rabbit trails
Assignment from Camp (that you should mimic):
Identify all schools of thought
Build out your mindmap for at least 3 schools of thought
Save compelling research you find on the way"
Research Foundations 2 with Isaiah McPeak
Primary/Secondary/Tertiary sources
Using Journals / Lexis / SSRN
Research Fallacies and Arguments
Choosing a school of thought for each side
Don't violate your moral compass on the topic
Everything else: all the other talks and videos help apply what happened in these two research foundations lessons.