Why Do Visual Meditation?
Why Do
Visual Meditation?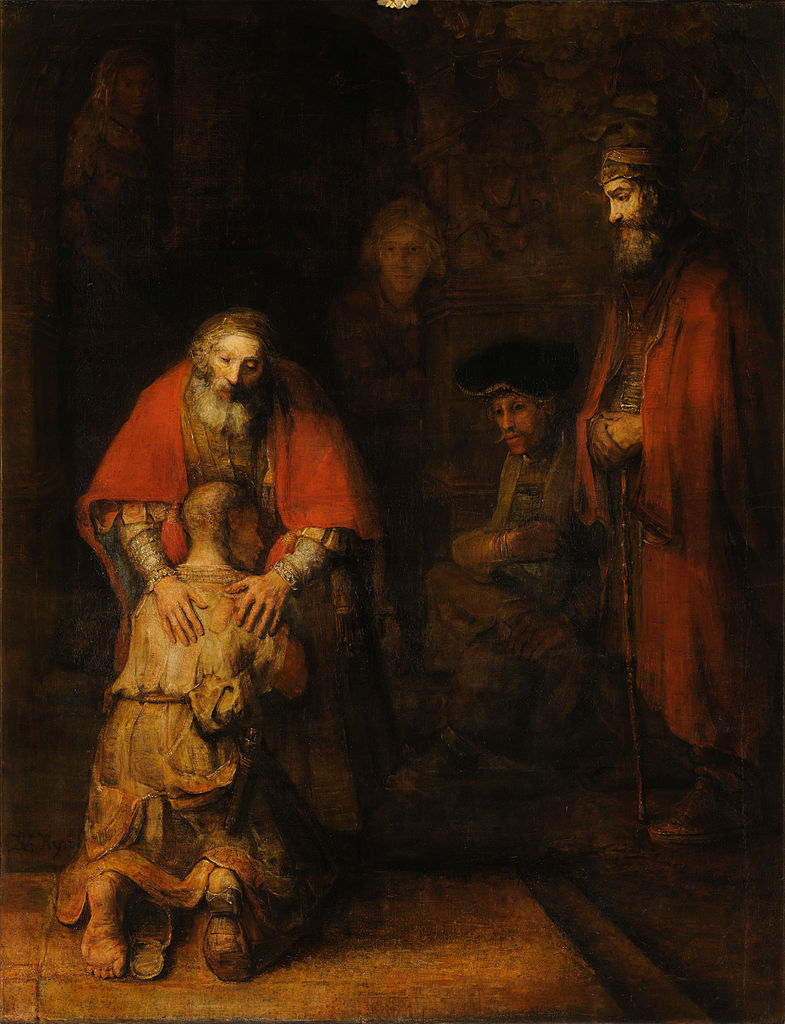 Henri Nouwen's soul was changed through viewing Rembrandt's painting, The Return of the Prodigal. When Henri first saw the painting, he identified with the prodigal returning to his father. Henri traveled to Petersburg to see the painting in person. He spent hours sitting in front of the painting, putting himself in the painting. First he was the prodigal. Then he was the elder brother. Eventually, he was the Father, characterized by the welcoming disposition of love and acceptance toward others.[1]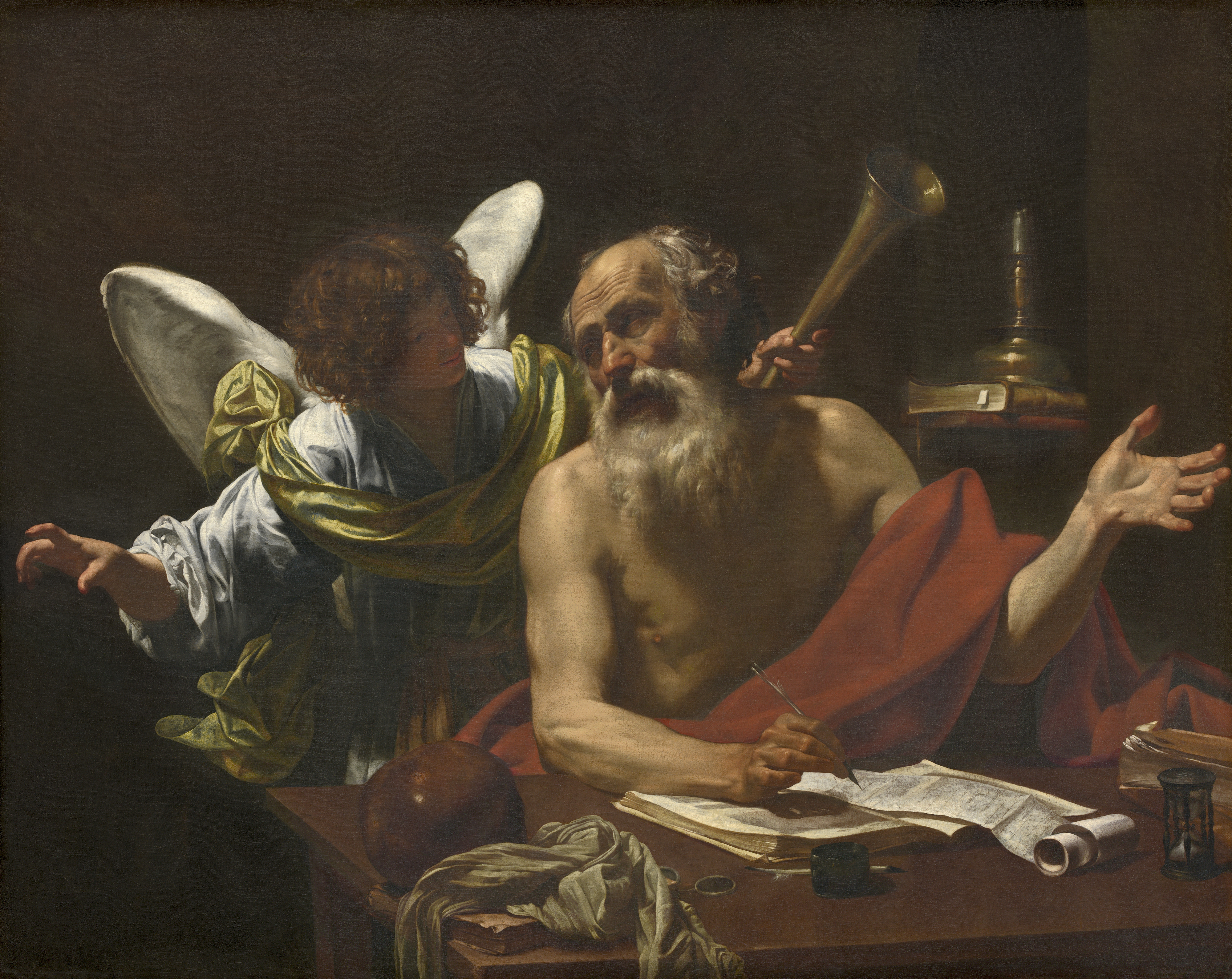 Henri Nouwen's experience of living in a painting motivated me to go to the National Gallery of Art in Washington D.C. and sit in front of a painting for an hour. One painting. One hour. I chose Jerome and the Angel by Simon Vouet. After living in this painting for an hour, I can easily see how Henri lived in The Return of the Prodigal for hours. I walked away with a deep perception of the connection between Jerome and the Angel. Since that practice, I have a pronounced awareness of my relationship with the world of the sometimes invisible Kingdom. Jerome is not startled, but participates in a discussion of sorts with the Angel, as portrayed by Jerome's left hand and the Angel's right hand. My soul is open to that type of Kingdom connection with more awareness since my exercise.
Art stirs the soul
Henri Nouwen and I would certainly agree with curriculum developer Joellyn Cicciarelli, that "the combination of art and faith helps build a strong foundation of faith and stirs the soul in unexpected ways."[2]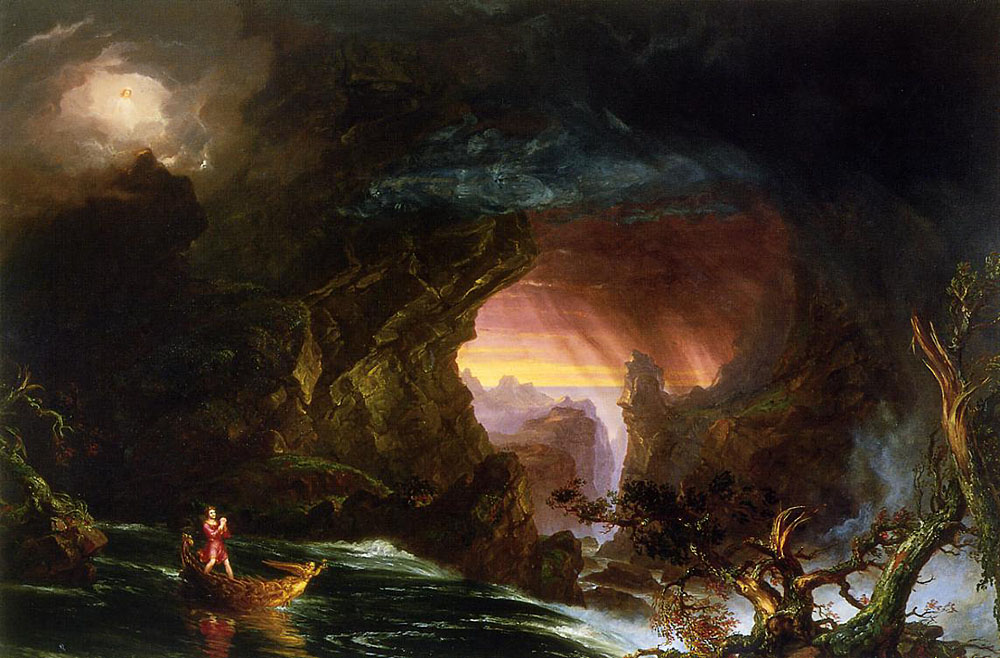 When we first moved to Maryland in 2002, our lives were in a bit of turmoil, partially due to the 24/7 role my husband had played in the aftermath of 911. We visited the National Gallery in D.C. shortly after moving to the D.C. area and encountered the Thomas Cole paintings entitled The Voyage of Life. My husband gasped when he saw the third of the four-painting series called "Manhood." The man praying to God as he came upon the river rapids stirred David's soul. He said, "Someone else gets me." Cole painted in 1840, yet he captured the exact disposition that David felt. He was not alone.
I did an exercise with some friends where we selected images that spoke to us about who God is, and about something inside of ourselves that we needed to confess. One of my friends was struck by an image that spoke to her without even knowing why. It would takes months for her to figure out what the image even meant to her. But it stirred her soul in a way that words alone hadn't.
Art activates prayer
Andy Otto, in his article "Praying with Art," says that "while Ignatian prayer is best known as the prayer of the interior imagination, of the mind's eye, it can also be activated from the exterior visual sense, through art."[3] I have often used an art print to ignite prayer, even as a shared experience with others. Images can connect to deep perceptions and experiences, which then can lead us to pray in deeper ways.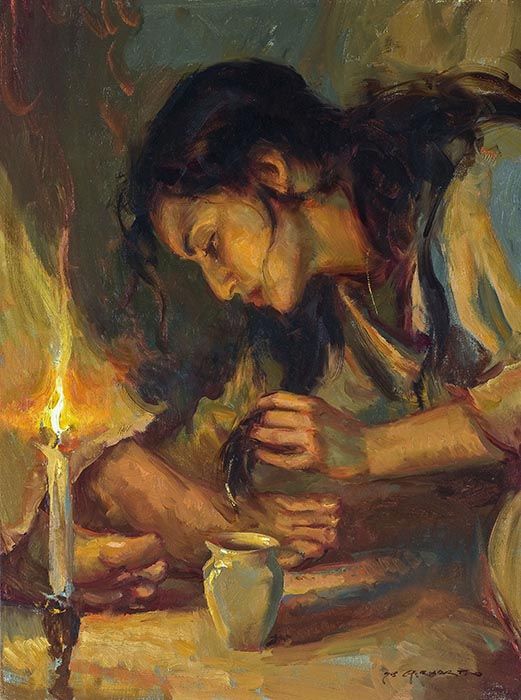 I remember drinking in an artist's rendition of Mary anointing Jesus' feet with costly perfume with two friends. After we shared our perceptions with each other, tenderness and connection to Jesus welled up within, and we were all 3 moved to pray together.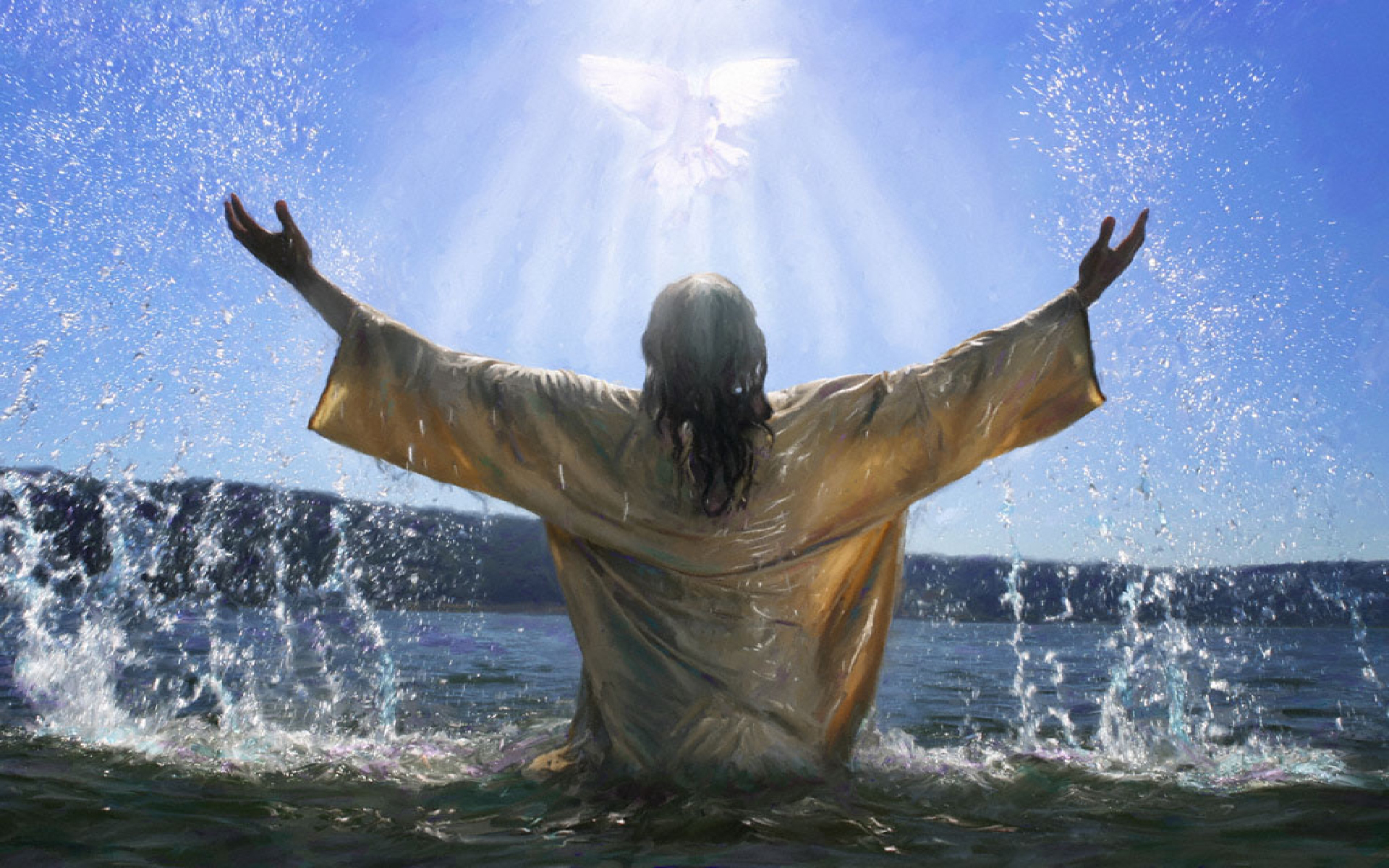 Recently I led a silent retreat on "Receiving Our Belovedness." I put an image of Jesus' baptism on the screen, where He received His belovedness. We did an exercise of writing our own charters of belovedness. Many of the retreat participants commented on the feedback surveys that the image of Jesus receiving the blessing from God was what moved them most to connect with God to receive their blessing.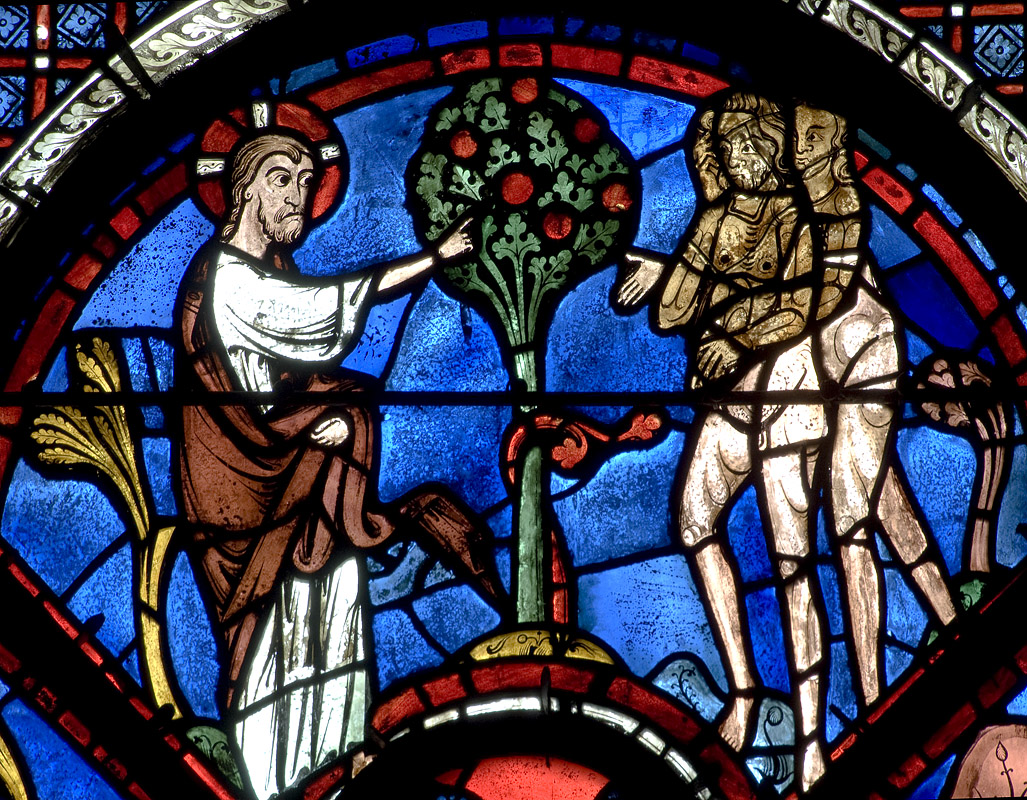 Otto goes on to say that "Art has long been a way the Church has tapped into the divine." Living in Europe for 7 years, we often enjoyed the art in cathedrals that were destinations for pilgrimages. Illiterate pilgrims journeyed to the Cathedral of Chartres with its 360,000 square feet of brilliant stained glass, and then gazed for hours at images of light and color. In the image pictured here, God is warning Adam and Eve to not eat of the Tree of Knowledge. Bono said in a concert in Italy that "…stained glass windows, they were the first movies. Stories told through color, projected by sunlight."[4] Although the Word of God is very powerful in activating prayer, it also makes sense that a pilgrim could "read" the image on the glass, and be moved towards prayer as a response. Even readers can be moved to connect with God in unique ways through exposure to and participation in art.
Art is a door to revelation
"The aim of art is to represent not the outward appearance of things, but their inward significance." ~Aristotle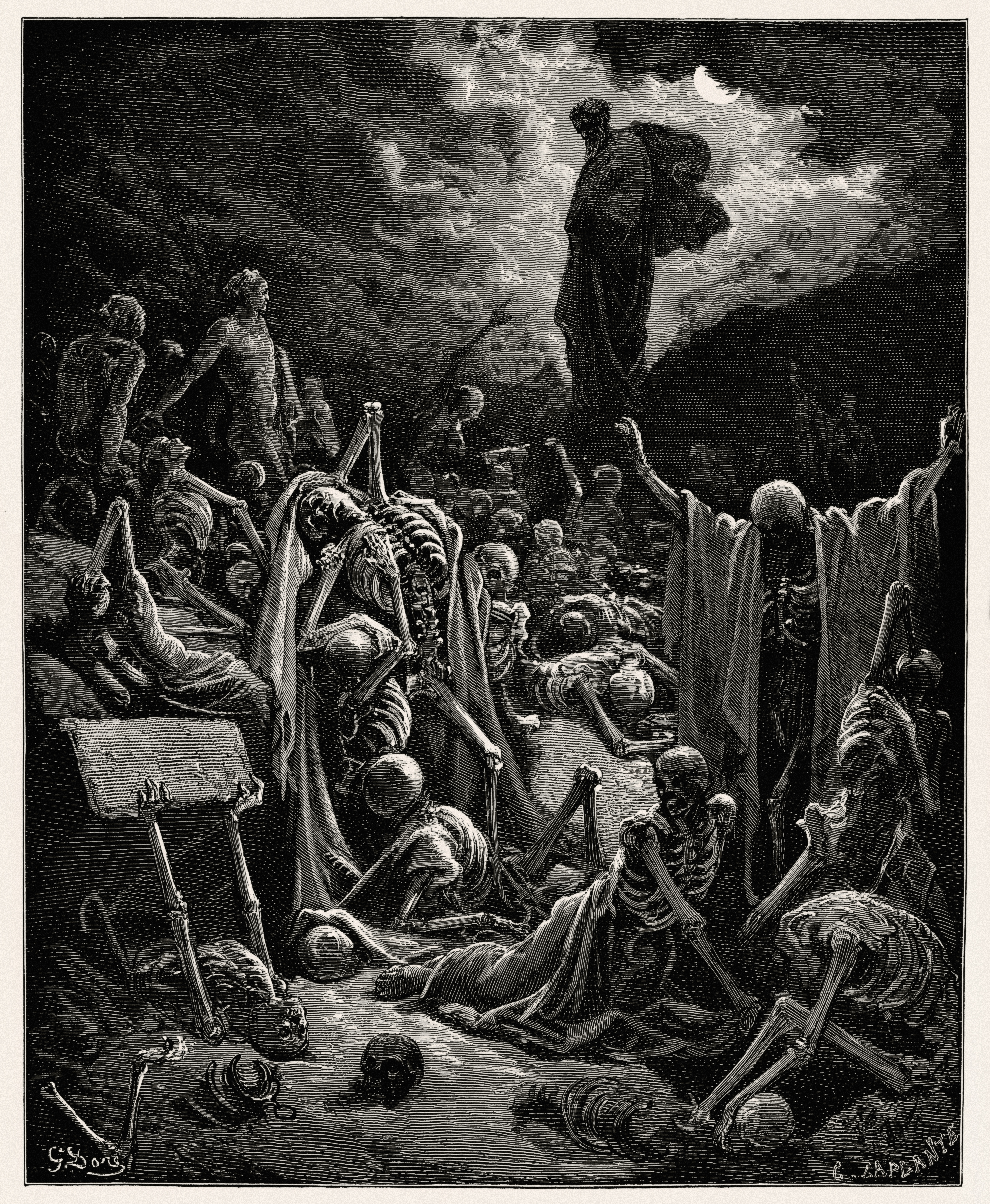 I suggest that revealing the inward significance of things, or what is true and full of meaning, is exactly what God was doing when he gave visions – a kind of inward art, as the one recorded in Ezekiel 37. God could have just used words to tell Ezekiel that He can give life to that which is dead. Ezekiel might have experienced that truth statement, as the old saying goes, "in one ear and out the other." Sometime words can be illuminated by an image, in a similar way that "the Word became flesh and dwelt among us."[5] A picture is, after all, worth a thousand words. Why is that? Ezekiel's mind perceived the inward significance of meaning through a visual image, just the way that art can encourage. In a similar way, Julian of Norwich probed the deep meaning of Jesus' suffering through focusing on an image of Jesus on the cross.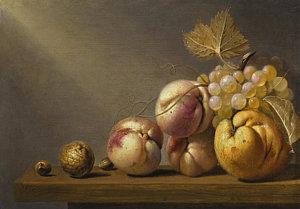 In some senses, creation is fine art. It is certainly created by the finest artist that exists. Again, Julian of Norwich gazed upon a hazelnut to probe deep mysteries of God's love for something of such littleness. Yet in perceiving God's care for the hazelnut, Julian perceived God's care for her. God often speaks to us as we ponder creation or visual images of it, whether in our imaginations, in reality, or in a painting. "Day to day pours for speech,"[6] because our God chooses to speak at times through images, and sometimes those images are in fine art.
Sometimes the art is in our imaginations. Jesus paints many pictures in our minds through His parables: the Good Shepherd, the Good Samaritan, the Lost Coin, etc. We can visualize the ten virgins lighting their lamps and standing ready for the groom. Parables and stories create images of reality in our minds that allow us to explore the inward significance of the truths conveyed. In a similar way, art can open doors to deeper, inward realities.
Art integrates the mind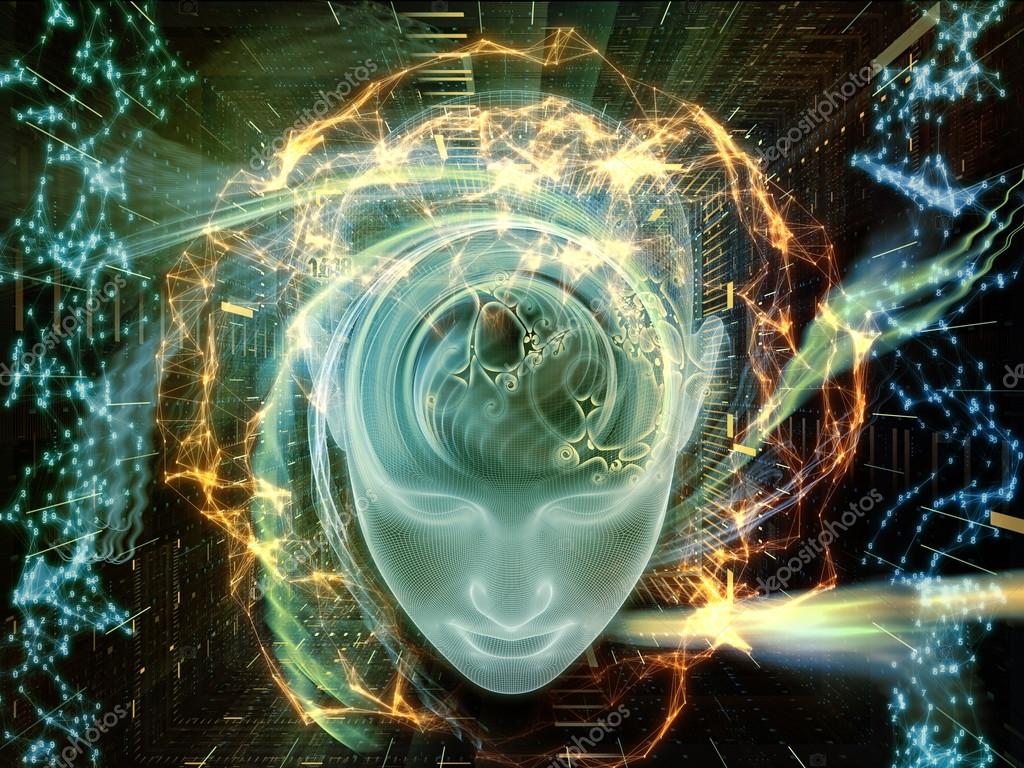 Neuroscientists tell us that we store unprocessed trauma and pain in a part of our brains, where it lives without words, creating barriers to wholeness in our souls. Psychiatrist Karl Lehman explains that he and "many psychologists, psychiatrists, and developmental neurobiologists,"[7] such as Dr. Allan Schore and Dr. Dan Siegel (both who are scientists, psychiatrists and professors at UCLA) along with "neuro-theologian" Dr. James Wilder have theorized that memories which determine our level of joy and well-being, or lack thereof, are stored as implicit memories that we are not even aware of consciously. After an explanation of stored pain and trauma, Lehman says that:
If we are not able to complete the processing journey, then the painful experience becomes a traumatic experience, and the memory files for this experience will carry unresolved traumatic content. When this kind of memory is activated at any point in the future, the toxic, unresolved content comes forward and feels true in the present. Toxic content from unresolved traumatic events might include unprocessed physical sensations, disorganized attachment, unresolved negative right-sided emotions, feelings of inadequacy, confusion, distorted interpretations (lies) regarding the meaning of the traumatic experience, and dysfunctional left-sided emotions based on the trauma-associated distorted interpretations. This toxic, unresolved memory content will disrupt our ability to function as it comes forward and blends with our experience in the present.[8]
The arts in general can have an integrating effect on our minds. As psychiatrist and neurologist Curt Thompson explains:
Nowhere does the power and grace of interpersonal neurobiology speak more eloquently than in and through the arts. For it is drama, painting, music, sculpture, poetry and dance (to name but a few) that activate the resonance circuits of the right hemisphere and weave a deeply felt sense of meaning into the more logical tapestry of the left brain. As such, the arts have the potential to facilitate the integration of our minds.[9]
I have experienced first hand and through serving as a prayer minister in inner healing sessions how helpful the arts are in integrating the mind and helping a person process stored painful memories. I think this happens sometimes because the trauma or pain was experienced before the person developed language skills. Therefore, tapping into the non-verbal parts of the brain with the arts can be of great help in processing and integrating the non-verbal emotions and perceptions into the whole person, bringing shalom to the soul.
The Visual Meditation Experience
Since art stirs the soul, activates prayer, is a door to revelation and integrates the mind, I have assembled a visual meditative experience for you. It is my hope that visual meditation will open up your heart, soul, and mind, like it did for Henri Nouwen and me, that you might even more fully "know the love of Christ that surpasses knowledge" and "be filled with all the fullness of God."[10]
Image credits in order of appearance:
·     The Return of the Prodigal by Rembrandt
·     Jerome and the Angel by Simon Vouet
·     Jerome and the Angel by Simon Vouet.
·     The Voyage of Life: Manhood by Thomas Cole
·     Anointing Jesus' Feet, Unknown title and artist
·     Jesus baptism, Unknown title and artist
·     Adam and Eve, Stained glass detail from Chartres Cathedral in France
·     A Still Life Of A Quince, Grapes, Peaches, A Walnut, And Hazelnuts On A Wooden Ledge by Harmen van Steenwijck
·     Mind Integration Photo by agsandrew
    [1] Henri Nouwen, Home Tonight: Further Reflections on the Parable of the Prodigal Son (New York City: Images Publishing, 2009), Epilogue.
    [2] "Art and Faith Formation Fuse in the Classroom," Loyolla Press, https://www.loyolapress.com/our-catholic-faith/prayer/arts-and-faith/visual-arts/art-and-faith-formation-fuse-in-the-classroom?p=1
    [3] Andy Otto, "Praying with Art," https://www.ignatianspirituality.com/14580/praying-with-art , accessed April 7, 2018.
    [4] U2 -- I Still Haven 't Found What I'm Looking For [Official Live Video]HD https://www.youtube.com/watch?v=gY75dw64sqI
    [5] John 1:14 [ESV]
    [6] Psalm 19:2 [ESV]
    [7] Karl D. Lehman, M.D. and Charlotte E.T. Lehman, M.Div., "Brain Science, Psychological Trauma, and the God Who Is with Us, Part II: The Processing Pathway for Painful Experiences and the Definition of Psychological Trauma," OutsmartingYourself.org. (Original 7/27/2007, Revised 2/4/2011), 41.
    [8] Lehman and Lehman, 42-43.
    [9] Curt Thompson, M.D., Anatomy of the Soul: Surprising connections between neuroscience and spiritual practices that can transform your life and relationships (Carol Stream, Illinois: Tyndale Momentum, 2010), 260.
    [10] Ephesians 3:19 [ESV]
---